Dettol No Touch Handwash System
A unique and innovative product break-through in hand hygiene, the Dettol No-Touch dispenser automatically senses your hands and dispenses an adequate amount of liquid soap to give you a great handwash experience.
The innovative Dettol No Touch Hand Wash System helps to protect you from germs your hands may encounter during your busy daily ritual. It is clever too, automatically sensing your hands and dispensing just the right amount of liquid hand wash as required. It makes hand hygiene as simple as possible and gives you one less thing to think about!
Washing your hands is one of the most important things you can do to help protect your family from germs, and with this clever device, you and your family don't even have to touch the potentially germ-packed soap pump. It is great for caring for your family in the kitchen and bathroom, and helps teach your children about the importance of hand hygiene to help prevent the spread of germs. The starter kit includes a dispenser, one hand soap refill, and four AA batteries. When you use the Dettol No-Touch Hand Wash System, you know you're helping your family by fostering proper and effective hand washing to help prevent the spread of illness-causing germs.
Antibacterial hand soap refills for the No Touch Hand Wash system are enriched with moisturizing ingredients and available in two great scents:
• Cucumber Splash
• Original
Setting Up:
• Remove tamper evident sticker from Hand Wash Refill cap and insert Refill into dispenser until you hear it click.
• Remove battery tab from inside the battery compartment.
• Place dispenser on counter. Switch it on using ON/OFF switch on the back of dispenser.
• Wet hands and place under the nozzle - soap will automatically be dispensed. You may need to repeat this a few times for the first dispense. Your No-Touch Dispenser is now ready for use!
Safety Information:
Keep out of reach of children unless under supervision. If swallowed, seek medical advice immediately and show the container or label. Avoid contact with eyes. In case of contact with eyes, rinse immediately with plenty of water and seek medical advice. This device is battery operated. Use only alkaline batteries. Do not mix used batteries, batteries of different brands or different kinds. Ensure batteries are inserted correctly, aligning the (+) and (-) terminals as indicated. Do not expose the batteries to water, fire or high temperatures. If any leakage from batteries is noted, remove them immediately and remove any leaked material. Remove batteries if the device is not in use for a long period of time.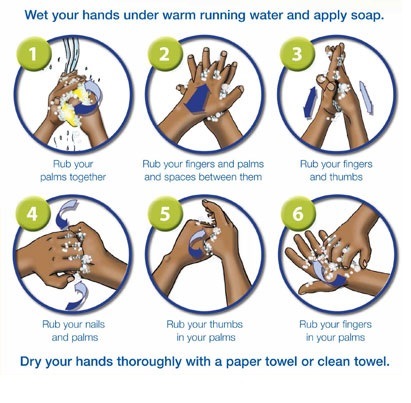 Hand Hygiene
The hands are one of the most important causes of cross contamination and cross infection in the home. Making sure your family to wash their hands at the appropriate times could have a huge impact on their health. Find out how to wash your hands the Dettol way.
What You Need to Know
Whenever you touch something that contains germs, like a dirty cleaning cloth or a surface that someone has sneezed over, germs can transfer to your hands. If you then touch your eyes, nose or mouth, a wound, or food or water that you then consume, these germs can get inside your body and make you ill. The germs on your hands can also spread to all the other people and places that you touch.
One of the best ways to stop germs from spreading around your home and to you and the rest of your family is to wash your hands regularly with soap and water. If your hands look dirty, you need to wash them to remove the dirt and germs. However, to reduce the risk of infections, such as colds and flu, and those that cause vomiting and diarrhoea, you also need to wash your hands before or after certain tasks – even if your hands look clean. These are the key times to wash your hands.
How to Wash Your Hands
To remove the germs from your hands, you need to lather every part of your hands and then rinse all the soap and germs away with plenty of clean running water. It is also important to use a clean towel to dry your hands. Damp towels can get germy very quickly and pass germs from one person to another.
How to Wash
Using an antimicrobial soap can help to destroy the germs on your hands and adds an important extra margin of safety. This is particularly useful when there is more risk from germs, such as when someone is ill or if there is a baby or another vulnerable person in your home.
When Soap and Water are Not Available
Even when soap and water are not available, it is possible to keep your hands hygienically clean. Alcohol-based hand sanitizers are designed to destroy the germs on hands that are not visibly dirty, without the need for water or towels, and are ideal for situations where you cannot easily get to a sink.
For hygienically clean hands, everyday