Who says cooking is a serious business when you have the smart and trendy Bajaj FX-11 Food Processor? The versatility of this food-processor will entirely make your kitchen life more enjoyable and easier. This smart kitchen partner maximizes your convenience by performing multiple functions like chopping, slicing, kneading, grinding, shredding, coconut scrapping, whipping and chutney making. This is a must-have Kitchen appliance for every kitchen geek, for house-wives who love experimenting different dishes, singles staying away from homes, for working-couples longing for fast and easy cooking and for all those wearied with their maid's tantrums. Additionally, along with saving your precious time this gadget also reduces the risk of injury as you don't have to use your hands to dice something into tiny pieces over a chopping board and or succumb to the tears of the onion. Just enjoy delicious food as per the demands of your taste buds through your smart food processor which simply speeds up your recipes. FX 11 comes along with three magical jars and a processing bowl to efficiently perform the varied tasks. Make every day cooking fun and entertaining with this trust-worthy Food Processor that comes with a 2 year Bajaj India Guarantee.
Capacity
Bajaj FX-11 gives you an easy access to mouth-watering food with its three magical jars to simplify the cooking process. It has a 1.5 litre unbreakable polycarbonate liquidising jar with stainless steel blade to help you make your favourite shakes and juices, 1 litre stainless steel grinding jar equipped with multifunctional stainless steel blade for easy grinding and a 0.3 litre chutney jar for making varieties of chutneys.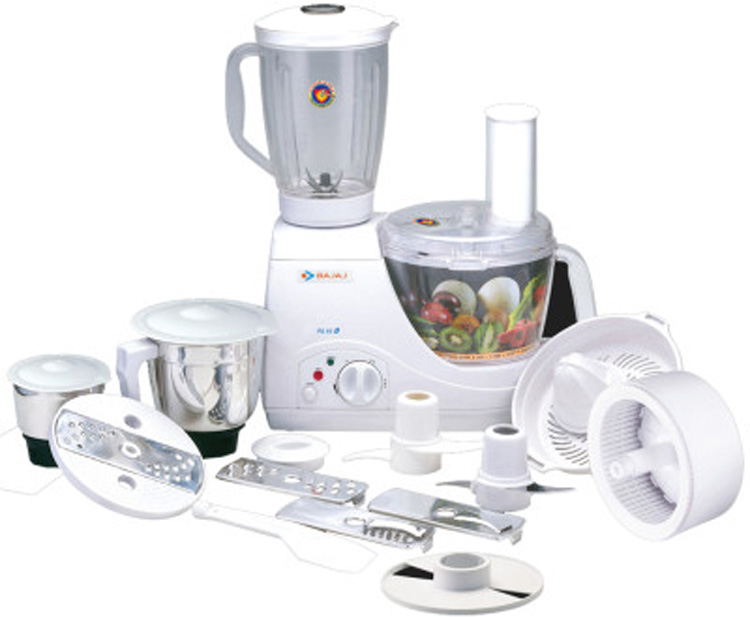 Multi-Tasking
Infuse a little pizzazz to your cooking style and impress everyone at the dinner party with Bajaj Food processor. This Food-processor eases out those tedious and time-consuming cooking processes as it can grind, knead, chop, cut, slice, shred, grate and whip edibles in no time. Enhance your culinary skills with perfect creamy soups and silky spreads along with excellent seasoning in a matter of minutes.
600 Watts Power
FX 11 consumes around 600 watts power and is equipped with a motor overload protector to prevent any damage due to overload. It has a 3 speed control and pulse function that helps you to adjust the speed accordingly. The Jar interlock system keeps the device safe and ensures smooth operations. The blades used in this food processor are made up of stainless steel that retains sharpness and last longer. The excellent 18000 rpm motor speed helps you to quickly perform those cooking tasks.
Guarantee
Enjoy your online shopping without any worries as this Food processor from Bajaj comes along with a 5 year guarantee on Motor and a 2 years guarantee on the product. In case of any of the manufacturing defect you can simply walk-in to any of the authorized Bajaj India Service centre in your proximity across India.