Lightweight & compact, Benro T660EX Tripod is an ideal choice for photographers who are always on-the-go. It is just 1.25 Kg in weight & has safe weight load capacity of up to 3 Kg. This tripod is easily compatible with all digital compact cameras, DSLRs and many video cameras as well. It has 4-leg sections with adjustable leg angles for easy set-up. Its all-terrain feet enable you to strike a firm balance on any kind of surface. This tripod is built with aluminium alloy which makes it sturdy and durable. The 3-way pan head of this tripod allows you to make simultaneous panning & tilting movements easily while recording videos or capturing still images. The maximum operating height of this device is 1450 mm whereas its foldable height is 535 mm. You can buy this affordable Benro tripod from Snapdeal.com at lowest possible price with lifetime Company warranty & free transit insurance.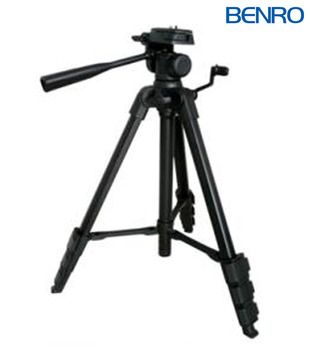 High Grade Aluminium Alloy
Benro T660EX Tripod is built with high grade aluminium alloy. This aluminium body gives strength & sturdiness to this tripod. It also makes it lighter in weight for easy portability. The 4-leg sections of this tripod lend greater vibration reduction on uneven terrains. You can capture balanced images by placing your camera on this Benro tripod.
Height & Weight
Benro T660EX Tripod weighs just 1.25 Kg. It is extremely lightweight & can be carried around while travelling easily. The maximum weight taking capacity of this tripod is up to 3 Kg. Its maximum operating height is 1450 mm whereas its foldable height is 535 mm. This tripod is perfect for recording videos and taking still images.
3-Way Pan Head
Equipped with a 3-way pan head, Benro T660EX Tripod enables you to take multi-angle shots through your camera with ease. You can position any DSLR or digital compact camera on this tripod. It allows you to make tilting and panning movements easily using the pan handle. You can capture simultaneous horizontal and vertical motions by placing the camera on the 3-way pan head of this Benro tripod.
Easy Leg Locking System
Benro T660EX Tripod incorporates an easy leg locking system that allows you to adjust the height of the legs quickly. It helps you to take precision shots with full stability. This easy leg lock also prevents the tripod from slipping or extending beyond the desired height. You can set this 4-leg section tripod at different angles for attaining brilliant results with this Benro tripod.
Compatible Cameras
This Benro tripod is compatible with almost all DSLR cameras, digital compact cameras & many video cameras. You can mount your camera on this tripod for achieving balanced images at all times. Following is the list of some popular DSLRs that are easily compatible with this tripod:
· Nikon D5200
· Nikon D5100
· Nikon D3200
· Nikon D3300
· Nikon D60
· Nikon D50
· Nikon D7000
· Nikon D7100
· Canon EOS 60D
· Canon EOS 70D
· Canon EOS 1200D
· Canon EOS 1100D
· Canon EOS 550D
· Canon EOS 700D
· Canon EOS 600D
Lifetime Warranty & Free Transit Insurance
Buy Benro T660EX Tripod from Snapdeal.com and get lifetime warranty on the product. In case of any problem, you can simply visit any Benro authorized service centre across India to get the issue resolved. This warranty stands against any manufacturing defect that occurs in the tripod for lifetime from its date of purchase. Benro will repair the part that malfunctions absolutely free of cost. To provide you wholesome shopping experience, Snapdeal.com also offers you free transit insurance. From the time of dispatch till the final delivery, if any damage occurs in the tripod, Snapdeal.com will replace it with a new product for free.