Nikon D5100 with 18-55mm lens is an excellent DSLR camera & lens combo for photography enthusiasts. It not only offers the advanced technologies of a DSLR but also incorporates the brilliance of a versatile Nikon zoom lens.
Nikon D5100 features 16.2 MP DX CMOS sensor and ISO range of 100 – 6400 that enables you to snap spectacular shots. It offers full HD video recording and incorporates a viewfinder with dioptre adjustment. You can play with pictures on this DSLR camera using special effects mode. There is a memory card slot also available on this device that lets you to expand the memory for creating extra storage space. Buy this superb DSLR 7 lens combo from Snapdeal.com at best possible price to enjoy a hassle-free purchase experience.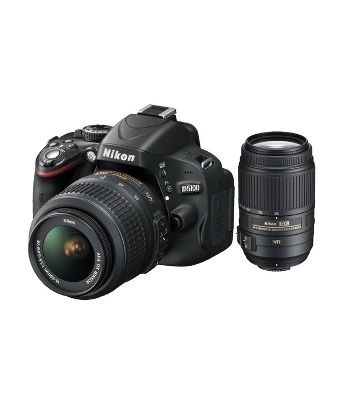 16.2 MP DX CMOS Sensor
You can snap moods and expressions with amazing precision with Nikon D5100 with 18-55mm lens. This DSLR camera is equipped with 16.2 MP DX format CMOS image sensor. It renders clear, sharp and bright picture results. This device produces image resolution of 4,928 x 3,264 pixels. You can also click photographs in smaller size formats by selecting the appropriate settings from the camera menu.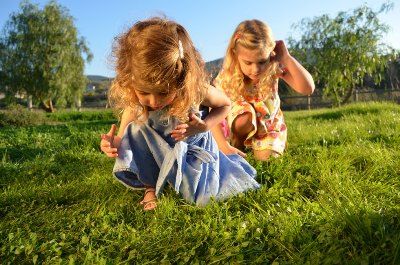 EXPEED 2 Image Processing System
To meet diverse user requirements, Nikon has installed an advance EXPEED 2 image processing system in this Nikon DSLR camera. It increases the processing speed of the system leading to high performance results. You also get improved image quality and accelerated start-up time.
ISO Speed of 100 – 6400
Click brilliant low-light shots with Nikon D5100 with 18-55mm lens and impress people around you. From sunsets to sunrises, party shots to late night street photography & more, you can capture it all with D5100 easily. This Nikon DSLR camera comes with ISO range of 100 -6400 that enables you to capture mesmerizing pictures in dim-light areas. In extreme dark situations, the ISO can be boosted up to 25600 by using the auto mode.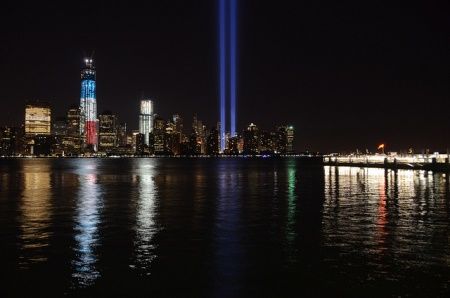 Full HD Video Recording
Record your special moments in high definition with Nikon D5100 with 18-55mm lens. It allows you to capture amazing videos with a resolution of 1920 x 1080 pixels at 30 fps (frames per second). The movies recorded with this advanced camera render lifelike image quality. There are smaller formats also available for recording movies that help you to share them easily on online platforms.
Viewfinder with Dioptre Adjustment
There is a viewfinder incorporated in Nikon D5100 with 18-55mm lens. The beauty of this viewfinder is that it allows you to focus on the subject precisely & frame the perfect shot. This viewfinder zooms in on the object at the same time as the main camera lens. Also, its optical path runs parallel to the main lens of the camera. Thus, the picture you frame through viewfinder results exactly the same on the camera screen later. The viewfinder of this camera comes with dioptre adjustment. It enables bespectacled individuals to adjust the viewfinder according to their eye power.
3 inch Vari-Angle TFT LCD Monitor
Nikon D5100 with 18-55mm lens features a large 3 inch low-temperature polysilicon TFT LCD screen. This vari-angle monitor allows you to take pictures from a variety of angles easily. It lends resolution of 920,000 dots. You can view, preview and edit images & videos easily on this LCD screen. It also lets you to navigate through the camera menu with ease & comfort.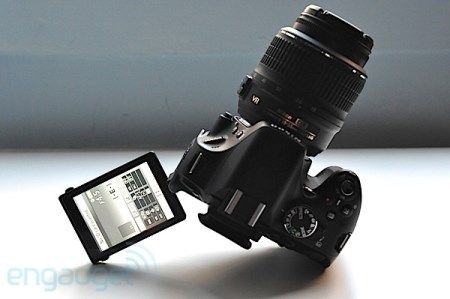 Continuous Shooting at 4 fps (frames per second)
For capturing the action in detail, Nikon D5100 with 18-55mm lens features a continuous shooting mode. You can capture still images at 4 frames per second speed with this DSLR. It provides you specifics of every miniscule movement that happens in the real time with accuracy. This mode is ideal for capturing adventure sports, performance arts, fast moving objects & more. It also comes handy while doing journalistic photography.
Auto Focus with 11 Focus Points
When you will look through the viewfinder of Nikon D5100 with 18-55mm lens, it will show you 11 focus points within the camera frame. You can select the point you want to focus on within the frame to achieve a desired shot. When auto mode is enabled, the camera decides the focus area on its own depending upon the scene settings. It will select focus based various parameters such as faces present in the frame or the object nearest to the lens.
Special Effects Mode
Unleash your creative potential by applying special effects to images as well as videos. Nikon D5100 with 18-55mm lens allows you to change the look & feel of the photograph completely within an instant. It offers various special effects such as night vision, high key, colour sketch, low key, miniature, selective colour & more. You can use these effects to create professional level pictures.
Nikkor AF-S 18-55mm VR Lens Kit
Nikon D5100 comes with AF-S 18-55mm VR lens kit that offers you numerous opportunities to take amazing shots. This standard zoom lens is versatile in nature. It can be used for snapping beautiful portraits and clicking general everyday shots. Equipped with vibration reduction technology, this lens compensates for any unwanted & external hand movements that may lead to blurred pictures.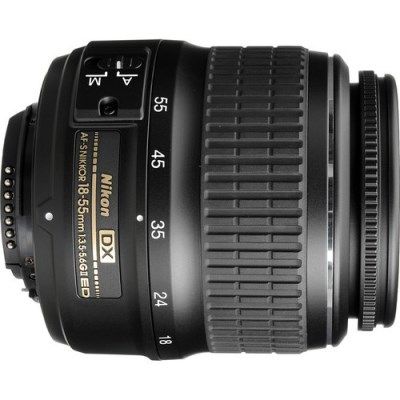 In the Box Contents
On buying Nikon Coolpix L5100 DSLR camera, you get the following items along with the package:
• AF-S 18-55mm VR Lens Kit
• Strap
• Front Lens Cap
• Rechargeable Li-Ion Battery
• Battery Charger
• Audio Video Cable
• USB Cable
• Instructional Manual
• Nikon Warranty Card
2 Years Nikon India Warranty
Buy Nikon D5100 with 18-55mm lens from Snapdeal.com and get 2 years Nikon India warranty on the product. The warranty stands against any manufacturing defect that occurs in the digital camera for 2 years from the date of purchase. In case of a problem, you can simply contact any Nikon authorized service centre across India for getting the issue resolved.
About Nikon
Nikon is a Japanese multinational company which has its headquarters in Tokyo, Japan. It was founded in 1917 and renamed Nikon Corporation in 1988. The company specializes in producing optics and imaging products. Nikon produces cameras, camera lenses, microscopes, binoculars, measurement instruments, ophthalmic lenses and the steppers used in the photolithography steps of semiconductor fabrication. It is one of the companies of Mitsubishi Group. There are various service centres of Nikon spread across India to provide services to its customers.