Description of Philips Hair Straightener HP8310
It's time to captivate others with your crowning glory. If you want a smooth and voluminous hair, then the Philips Intelligent Style Range ProCare Straightener HP 8339 is what you need. The Philips Straightener ensures you get salon type impeccably straight hair right at your home. It protects your hair from overheating as it is enhanced with Dual care plates that work on Even Heat Distribution (EHD) technology and maintain constant temperature. It takes care of your hair without damaging, thanks to uniform heat distribution. Whereas the automatic settings will allow you to experiment new and different styling every time. Embellished with ceramic plates, the Philips Straightener will delicately glides through your hair, leaving every strand shiny and silky.
When you have the Philips Straightener, you can never go wrong as the key-lock function ensures that there is no accidental change of settings while styling. It is also equipped with a closing lock mechanism, which allows convenient storage and also protects the straightener from damage. The straightener has a fast heat-up time. Switch in on and within 15 seconds, the straightener is ready to use, a boon in times of emergency.

You can relax absolutely as the straightener has automatic shut-off features that turn it off after 60 minutes when left on. To give you comfortable styling, the Philips Straightener comes has a 1.8 meter power cord. With a universal voltage requirement, you can take it along wherever you go and make it your best companion.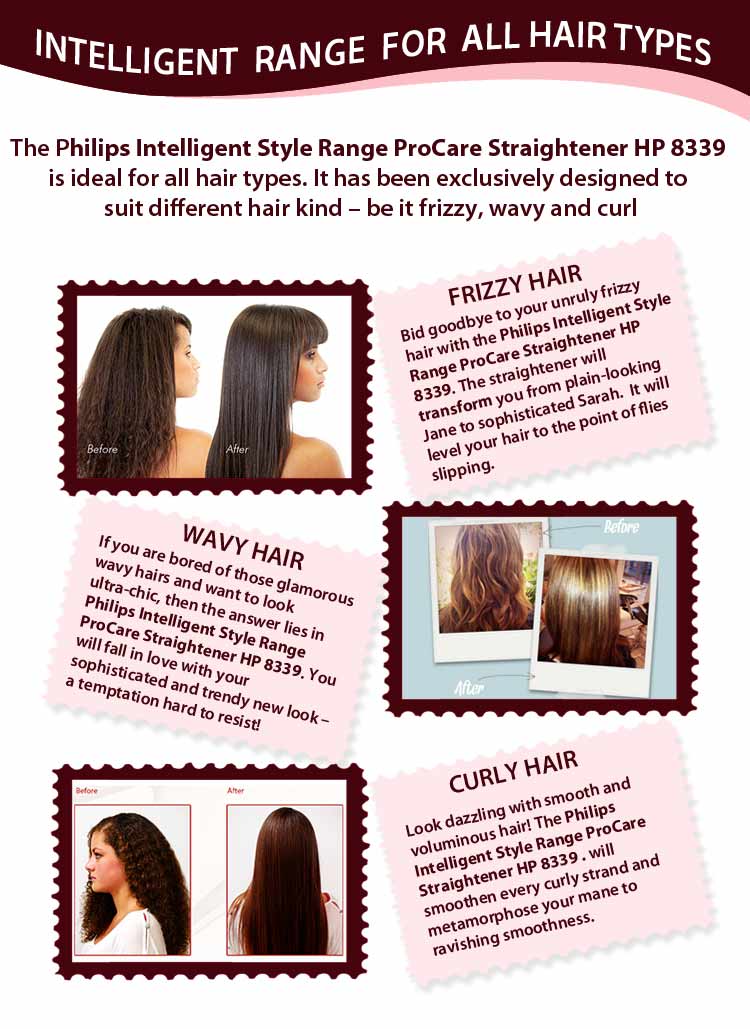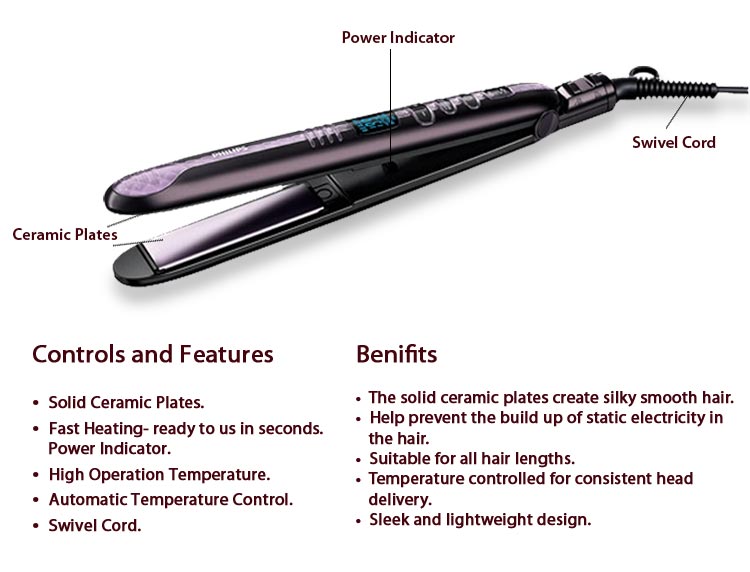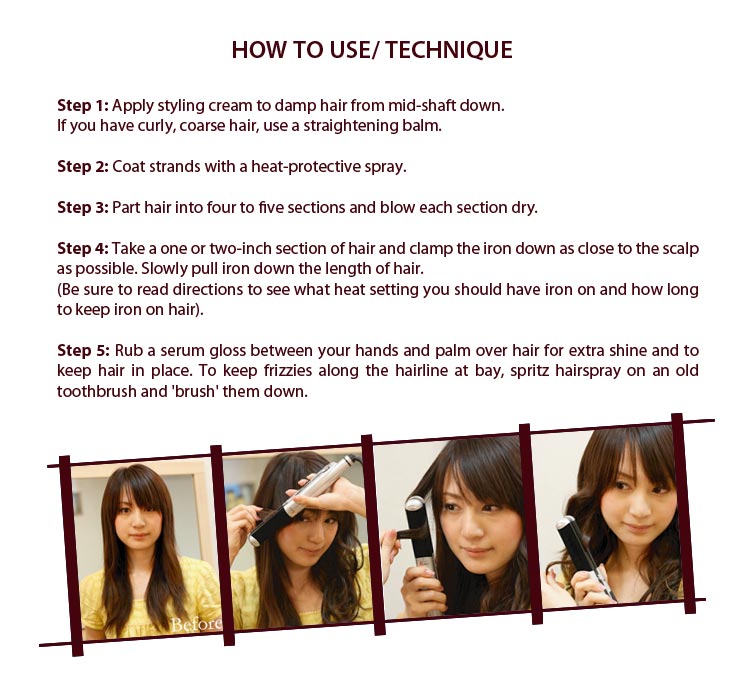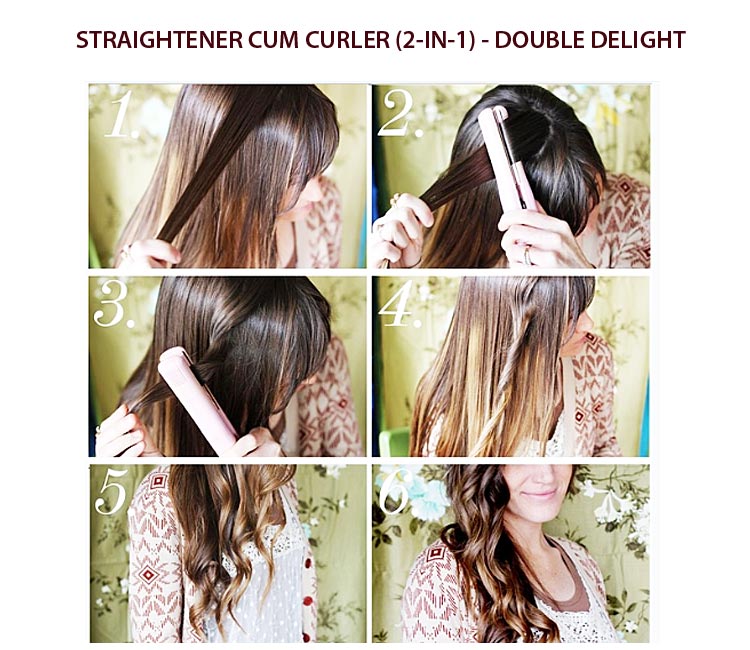 Warranty of Philips Hair Straightener HP8310
Warranty
Duration
2 Year manufacturer Warranty
Warranty of Philips Hair Straightener HP8310
Warranty
Duration
2 Year manufacturer Warranty
Technical Specifications of Philips Hair Straightener HP8310
Technical Specification
Sales Package:
Main Unit, Instructional manual
Color:
Black
Model ID:
HP8310
Brand:
Philips
Indicator:
Light indicator
Plate Type:
Ceramic
Swivel Cord:
360swivel cord
Heat Up Time (Sec):
30 sec
Temperature Range:
100C
Plate Size:
26 (W) x 90 (L) mm
Power Required (Volts):
110 - 240 V
Power Consumption (Watts):
43 W
Cord Length (Meters):
1.8 m
Warranty of Philips Hair Straightener HP8310
Warranty
Duration
2 Year manufacturer Warranty
Warranty of Philips Hair Straightener HP8310
Warranty
Duration
2 Year manufacturer Warranty
Warranty of Philips Hair Straightener HP8310
Warranty
Duration
2 Year manufacturer Warranty
Reviews & Ratings for Philips Hair Straightener HP8310
Reviews Snapshot
Easy To Use
Lightweight
Worth
Easy To Use
Effective
Good Value
My Beauty Routine Takes:
10 Minutes
Easy To Use
Effective
Lightweight
My Beauty Routine Takes:
10 Minutes
Easy To Use
Effective
Good Value
Lightweight
Easy To Use
Effective
Good Value
Lightweight
Easy To Use
Good Value
Lightweight
Sleek And Effective
My Beauty Routine Takes:
10 Minutes
Easy To Use
Effective
Good Value
Lightweight
Easy To Use
Effective
Good Value
Lightweight
My Beauty Routine Takes:
30 Minutes