Samsung 40 inches Full HD LED 40EH5000 Television comes with the latest technology, more vibrant colours for better images, apps for more entertainment, and big screen for more lively pictures. Widescreen Skype video calls, full multimedia experience, new reality in Full HD, 2 built-in speakers and light weight makes the design more appealing. Its Cloud technology and Samsung web storage gives you access to a huge collection multimedia stuff. It's all more than fun to have this television in your room. Samsung's Wide Colour Enhancer Plus technology uses an advanced picture quality improvement algorithm that amazingly uncovers hidden details and improves the quality of any image. Wide Colour Enhancer Plus provides more vibrant colours for better images.

The inbuilt TVs Triple Protector enables your TV to maintain operation even in the most challenging or unstable conditions and lets you enjoy your entertainment without worry even during surges, lighting and humid conditions. Choose a television that can cope with difficult conditions just to gift happy viewing without inconvenience. This new series of Samsung is lot more than just a Television. The Smart Hub, along with three great new services, will take you to a new world of social and personalised home entertainment. There is Family Story service that lets you share special photos, messages and events with loved ones. On the other hand, the Kids Feature keeps children stay entertained and educated. It allows you access to a huge selection of Samsung Apps, web browsing, Skype and more, this is the ultimate family home entertainment experience.

The Skype app for Smart TV is available for free in the Samsung App store. This helps you stay in touch with friends and family from the comfort of your home. Via Skype camera kit, you can make high-quality widescreen video calls to your near and dear ones throughout the world at almost zero or low rates. Enjoy your very own mini theatre like never before with the High Definition Multimedia Interface (HDMI) inputs of Samsung TV. It will truly transform your living room into a multimedia entertainment center. The credit for breath-taking viewing experience goes to the resolution that is twice as high as standard HD TVs and this takes you beyond the screen into a world of total immersion.

The ConnectShare technology makes it easy for you to watch movies directly from the USB. It's just a plugin-enjoy process, i.e. you have to simply plug your USB memory drive into the TV and instantaneously you can enjoy movies, photos or music. Another addition to the features is AllShare Play. With this service, you can stream movies, photos, music and more from any compatible devices nearby, including PCs. AllShare Play wirelessly connects to compatible devices through DLNA technology so the movies, photos and music stored on them can be viewed, listened to and shared on your TV. This series of Samsung HD televisions has been design to maximize the viewing experience as well as enhances your home interior. It elegantly combines the LED TVs bezel with its panel to remove any barriers for a seamless viewing experience.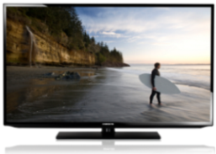 Wide Colour Enhancer Plus For More Vibrant Colours
Samsung 40EH5000 uses a progressive image quality enhancement process to produce incredible picture quality. Samsung's Wide Colour Enhancer Plus is a feature which considerably improves the quality of any image without compromising the originality of the image and also it helps in uncovering the hidden details. Now appreciate and see bright colours in the way they were meant to be seen.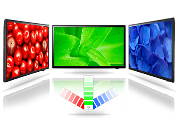 A TV with Triple Protection to Resist Surges, Lighting and Humidity
With Samsung 40EH5000 now enjoy watching your favourite TV shows without worrying about the environment. This is all possible because of the Samsung TV's Triple Protector. This feature ensures that your TV remains active and operational even in the most unstable weather conditions. The sturdy, improved inner circuit is highly protected against any electrical surges and lightning attacks. Along with which it is also humidity resistant.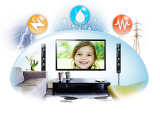 With HDMI Bring Home a Full Multimedia Experience with Ultimate Performance
An HDMI or High Definition Multimedia Interface input is used in Samsung 40EH5000 which will convert your home into a large size multimedia entertainment hub. HDMI is responsible to deliver high-speed transmission of the high definition digital data. Also, it transmits digital data from multiple devices straight into the Samsung LED TV.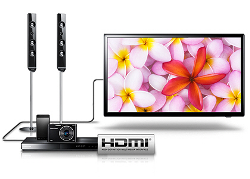 Full HD Display for Greater Level of Home Entertainment
With Samsung 40EH5000, experience image quality with true to life performance which has not been seen before. The resolution of this LED is twice as high as standard HD TV's resolution. Thus, delivering a magnificent viewing experience that will take you to another world full of entertainment which is beyond the screen. Discover true reality with a full high definition experience of your favourite movies, TV shows and music songs.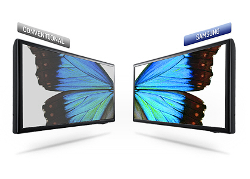 ConnectShare Allows You to Watch Movies from Your USB
With ConnectShare Movie, Samsung 40EH5000 lets you watch your favourite movies from your external USB. To use this, simply plug the USB memory drive into the TV and enjoy movies, pictures or music instantaneously. Now, you can easily experience a wide range of content in the comfort of your living room.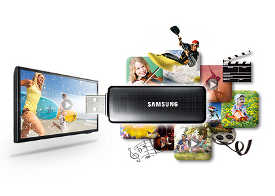 Save Energy and Save Environment with Samsung
Samsung 40EH5000 LED TVs are developed to deliver an astonishing viewing experience to its viewers in an energy efficient way. Samsung is using the new Planet First design in this TV which is designed keeping in mind the environment by using the most efficient technology which is planned to consume less power. This TV has been constructed using fewer materials for less energy consumption.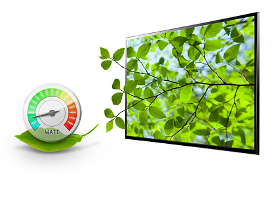 Smartly Designed Samsung TV to Best Suit Your Interiors
Samsung 40EH5000 has a remarkable design that maximises the viewing experience along with which it enhances your home interiors. The elegant bezel design of the LED TV provides seamless viewing experience for the users.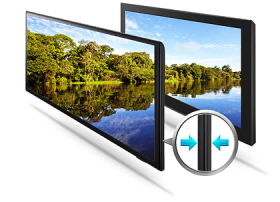 Triple Protection by Samsung to Keep Your TV Safe from Any Accidental Mishap
This Samsung 40EH5000 TV is specifically protected from Lightning, Surge and Humidity. To help save your TV from a mishap caused due to lightning attack, the Lightning Protection of this TV uses Block capacitors that can absorb lightning strike up to 15KV. To keep the TV safe from Surge Protection, the TV uses Varistor blocks and capacitors that can resist power surge up to 750V. And finally, the Humidity Protection includes Silica gel and anti-humidity glue coating on chipset.