Second generation Intel Core i5 2467M Processor $ 4GB DDR3 RAM $ 500GB Hard Disk Drive $ 33.78cm (13.3) HD LED Display $ Lightweight at 13.9kg $ 4 Watts Stereo Speaker
Welcome to the world of an awesome computing experience with the Samsung Series 5 ULTRA NP530U3B-A02IN ultrabook. The Samsung ultrabook, inspired by specifications from Intel is packed to the hilt with features to take your computing experience to the next generation. Powered by a Second Generation Intel Core i5 Processor with 4GB RAM, and packaged in an extremely sleek and portable design, The Samsung Series 5 ULTRA is perfect for you, whether you are at home or on the move!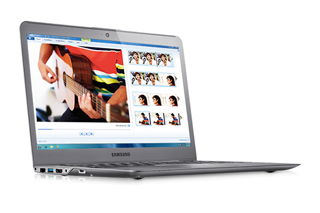 Large Storage You Want
Ultra-portable notebooks up until now were known for their low storage space. But the Samsung Notebook Series 5 ULTRA NP530U3B-A02IN comes with 500GB SATA Slim Hard Disk drive to ensure that you get all the space to store all your documents, images, videos, music with space left for even some more!

The Ultimate Design for On the Go
The burden of carrying a heavy laptop has always dreaded business professionals. Not anymore! The Samsung NP530U3B-A02IN ultrabook is so light, you will never feel burdened. It weighs only 1.39kgs and is very slim to comfortably fit any portfolio bag or laptop carry case with ease. Added to it are the jaw-dropping looks to ensure you become the centre of attention wherever you go – and carry your office with you too!
Samsung Fast Solutions

The Samsung NP530U3B-A02IN is packed to the hilt with features to ensure that you never waste your precious time. The Ultrabook features Fast Boot which ensures that you boot to the Operating System in less than 20 seconds. Moreover, fast start wakes the computer from Sleep mode or Suspended Mode in less than 2 seconds, so you always have the leading edge. It also features Fast Browsing which makes frequently viewed web pages run nearly twice faster.
Samsung Superior Display Technology

Every image, video, document and presentation is always crystal clear with the Samsung Series 5 ULTRA ultrabook. It features a 33.78cm (13.3) anti-reflective LED backlight HD SuperBright display screen with a resolution of 1366x768 pixels to give you amazing images every time. The in-built Image Enhancer technology enhances your images for optimal viewing. The anti-reflective screen ensures that you get perfect viewing even in bright sunlight. The screen is 40% brighter than conventional laptop screens to provide you a very comfortable viewing experience.
Expandable and upgradable features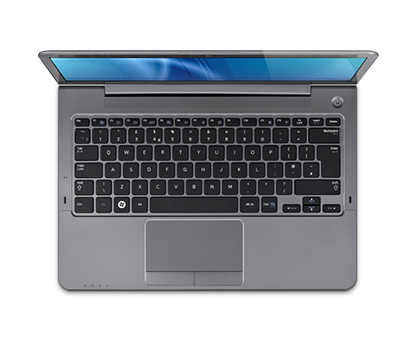 The Samsung Notebook Series 5 ULTRA NP530U3B-A02IN is fully upgradeable unlike similar ultrabook models. The device is upgradeable to 8GB of RAM in case you require more firepower from your laptop. Moreover the ultrabook can be comfortably connected a larger disd>