Capture clear and brilliant images with Samsung WB100 16MP Bridge Camera. Enjoy 26x optical zoom, 22.3mm ultra wide-angle lens and Dual Image Stabilisation (OIS + DIS) with this black-hued camera.
Clearer Pictures, Even from a Distance
Get that shot exactly as you want it, even if your subject is far away, thanks to the 26x Optical Zoom. Afraid that the shaky hands will ruin it? Don't be! That's where the Dual IS (OIS + DIS) comes in handy. The very second you shoot, the image gets stabilised.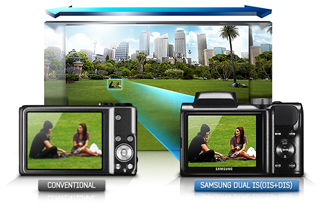 A New Angle
No need to step back to frame a shot anymore. With the precision-cut 22.3mm ultra wide-angle lens, you can capture any area, regardless of its vastness, in great quality.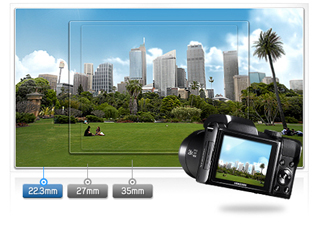 Quality Matters
The 16.2 effective megapixels CCD sensor ensures high-quality, low-noise images with lots of pixels and excellent light. The 1/2.3 inches CCD offers matchless sensitivity, which makes it possible to capture bright and professional photos, regardless of the lighting conditions.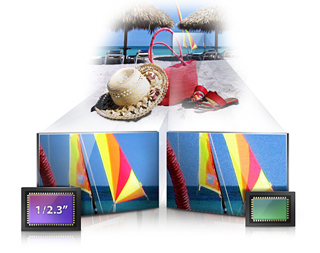 Click like a Pro
Need a feature in your camera that analyses key elements in the composition, then automatically adjusts its photo and movie modes to capture the best shot? Smart Auto (still and movie) does just that! Also, the camera's object tracking feature captures subjects that just won't stand still.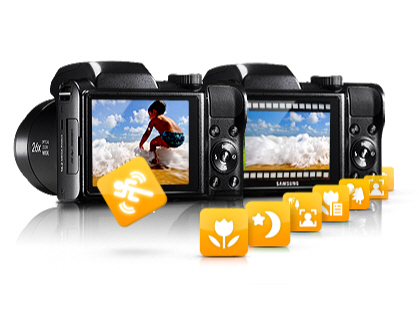 Create High-Definition Videos
You can capture 720p HD-quality video at 30 frames per second with this stylish camera, which is clearer than the standard compact digital camera video.