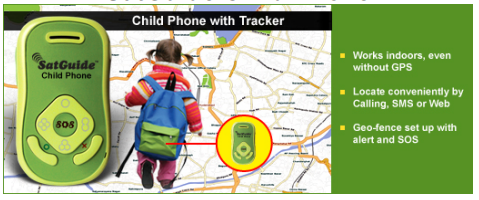 Product Description:
The SatGuide Child Phone is a powerful GPS GSM device which is primarily developed for the safety of your child. The device consists of superior GPS sensitivity as well as tracking/locating features so you are always aware of the whereabouts of your child.
The device has is built on the solid technologies of GSM which allows it to work with any network provider. You can know the realtime location of your child with SatTracx software. In case of an emergency, the your child can press the SOS button which generates an SOS SMS message which will inform you of the geographic location of your child and will initiate a voice call to the number so immediate action can be initiated.