With Sony SLT-A37, you can capture fast-moving objects and fleeting facial expressions effortlessly. With 16.1-megapixel clarity, Translucent Mirror Technology, continuous auto-focus, you get to shoot professional quality images and videos.
Translucent Mirror Technology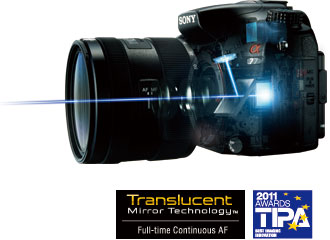 Sony brings to you the advanced Translucent Mirror Technology with SLT-A37. In a SLT (Single-Lens Translucent) camera, a translucent mirror is fixed in position to reduce blackout time between shots. This results in a camera that is smaller and lighter and works faster than a conventional DSLR camera. The innovative Translucent Mirror Technology enables you to obtain fast and accurate phase-detection autofocusing while still and video shooting.
16.1-megapixel Exmor APS HD CMOS sensor
The SLT- AA37 features Exmor APS HD CMOS sensor (APS-C size); to render every fine detail in your shots. Furthermore, the 16.1 megapixel resolution is accompanied by an extra-large sensor size that increases sensitivity in low-light conditions and strengthens background defocusing effects.
Maintain Your Focus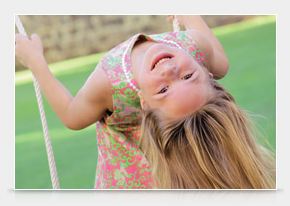 The Sony SLT-A37 ensures that your subjects are in focus with excellent clarity. Thanks to the Translucent Mirror Technology, the light is simultaneously directed to the image sensor and AF sensor at all times - this results in accelerated, high-precision full-time continuous phase-detection autofocusing.
Professional Class Shooting Speeds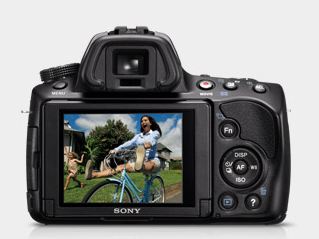 With SLT-A77 capturing that game-changing catch in a cricket match or your toddler's first steps, becomes totally effortless. The camera allows up to 7 frames per second in the Tele-zoom Continuous Advance Priority AE mode. Full-time Continuous AF ensures that you get accurate tracking and clear focusing in every frame. This mode also magnifies the centre of the action 1.4x to bring the subjects closer at a clear 8-megapixel resolution.
Tiltable Clear Photo LCD
The Clear Photo LCD screen of the camera provides flexible viewing for all kinds of shooting situation. When you need to shoot from high perspectives, hold the camera up and tilt the screen down towards yourself. For low perspectives, you can place the camera on the ground and tilt the screen up for perfect framing.
Portfolio-Worthy Portraits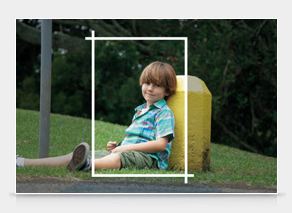 Create professional quality portraits with SLT-A37. The Auto Portrait Framing feature uses face detection technology and the "rule of thirds" principle to produce optimally trimmed portraits. The By Pixel Super Resolution Technology ensures that the trimmed portraits feature the same number of pixels as the originals.
Play with creativity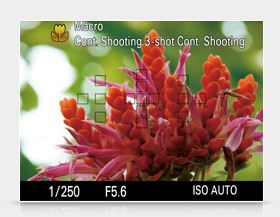 With SLT A37, you also get the benefit of point-and-shoot. The Superior Auto mode detects and analyses shooting conditions, adjusts camera settings accordingly, and activates advanced functions when required to deliver the best results. The camera features 8 Scene Selection modes render optimal image quality a variety of shooting conditions.
Colour Modes: sRGB, Adobe RGB, 1.5x Focal Length Conversion Factor, BIONZ Image Processor, 4 seconds Recycling Time, Flash Coverage: 18 mm (Focal Length Printed on Lens), Shutter Type: Electronically-controlled, Vertical-traverse, Focal-plane Shutter, Eye Relief: 19 mm From Eyepiece, 18 mm From Eyepiece Frame at -1 Diopter, White Balance Bracketing: 3 Frames, High and Low Selectable, Diopter Control: -4.0 to +4.0 m, AF Illuminator: 1 to 5 m, D-Range Optimizer: Off, Dynamic Range Optimizer (Auto / Level), Auto High Dynamic Range (Off, Auto Exposure Difference, Exposure difference Level (1 - 6 EV, 1.0 EV Step)), Creative Style: Standard, Vivid, Portrait, Landscape, Sunset, Black and White (Contrast, Saturation, Sharpness), BIONZ Processor with Dual Noise Reduction, Smile Shutter, Versatile Drive Modes