Video Courtesy: Karan Kumar
Lifestyle speakers to transform your living room into a theater in under 15 minutes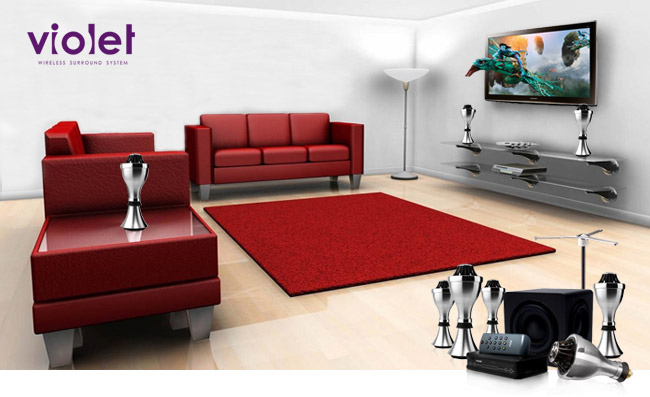 TV speakers deliver stereo sound even when high definition (HD) channels broadcast 6-channels of surround sound audio.
Experience true to life sound from your HD set top box with Violet3D's unique wireless surround sound system.
Smart audio for your living room TV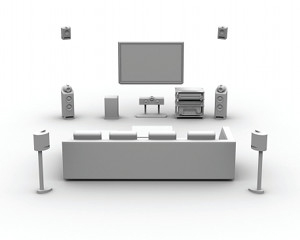 Conventional home theater systems demand that you position your speakers based on their specifications to get that perfect surround sound. When a sound engineer creates a DVD with 5.1 audio, he assumes that the five speakers will be placed as per specifications; Left & Right at 30 degrees, Rear Left and Rear Right at 110 degrees etc.
This is why most people build a separate home theater room with acoustically treated floors and walls so that it can conform to the rigid specs of the system.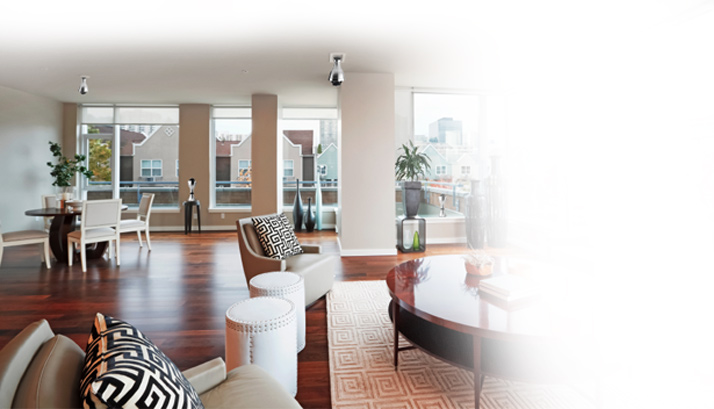 Building a home theater room to enjoy TV is impractical.
Violet3D gives you the freedom to decorate your living room to your taste, as the system doesn't pose such restrictions on the placement of the speakers and doesn't require you to acoustically treat the room to enjoy an immersive surround sound experience.
Benefits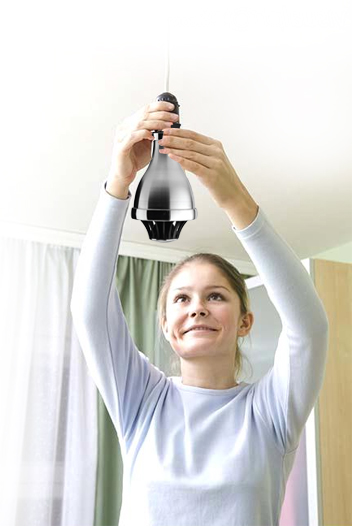 Unobtrusive system that fits into a light bulb socket to free up space in the living room
Wireless speakers that don't require you to run wires across the room
Smartly adapts to room acoustics with a uniform sweet spot all around
No rigid speaker placement requirements
Can be installed in 15 mins or less with a simple one touch learning process
No need to deal with an intimidating AV receiver. The Violet console is a simple plug & play system
Technology
Patent Pending Virtual Speaker Technology
Violet departs from the concept of rigid speaker channels such as left, center, right, surround and rears. It uses speakers simply as sound producing elements.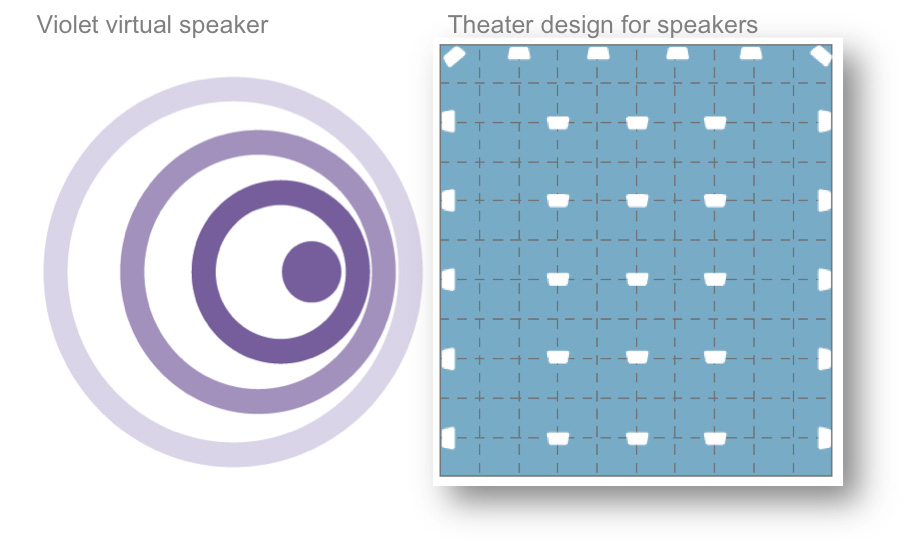 Violet visualizes a pattern of speakers to create a theater-like sound space and then adjusts the signal, volume & timing of the existing speakers to simulate this pattern in your living room
Natural Sound with Omni-directional speakers
Conventional home theaters use directional speakers (like spotlights). These provide the max light only where the sources converge (narrow listening area). Everywhere else you will have points of light & darkness.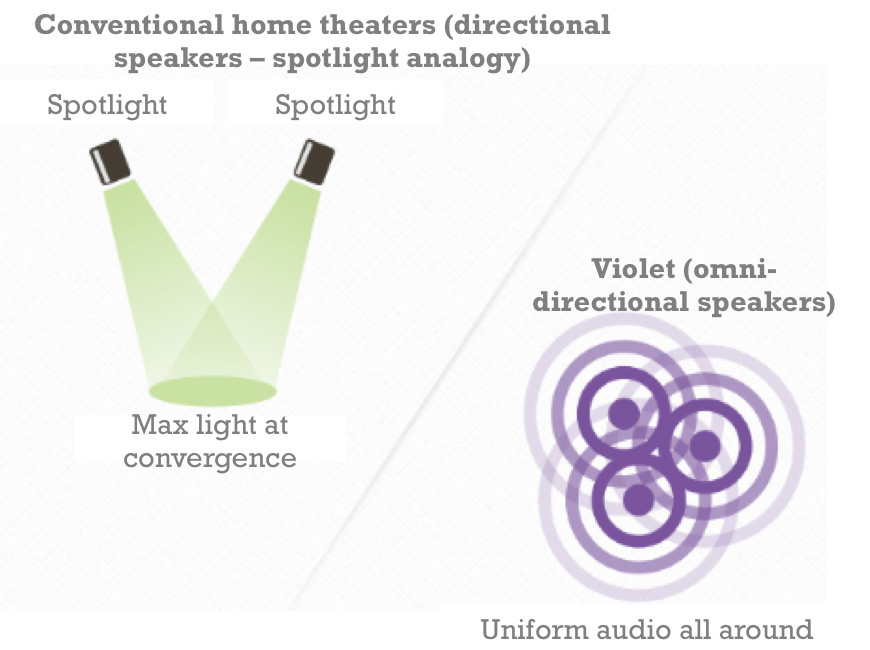 Violet's omni-directional speakers & signal processing create uniform sound in the room like a light bulb covering a large listening area.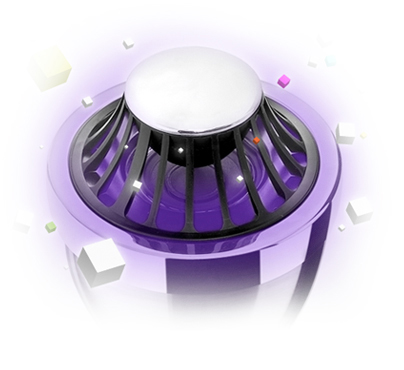 The sounds you hear from a speaker should dwell on two distinct paradigms – fidelity and coherence. Unfortunately, most sounds systems focus on just fidelity.
Violet3D sets itself apart by focusing on both fidelity and coherence, where you can consistently rely on the quality of sound churned out.
Awards

System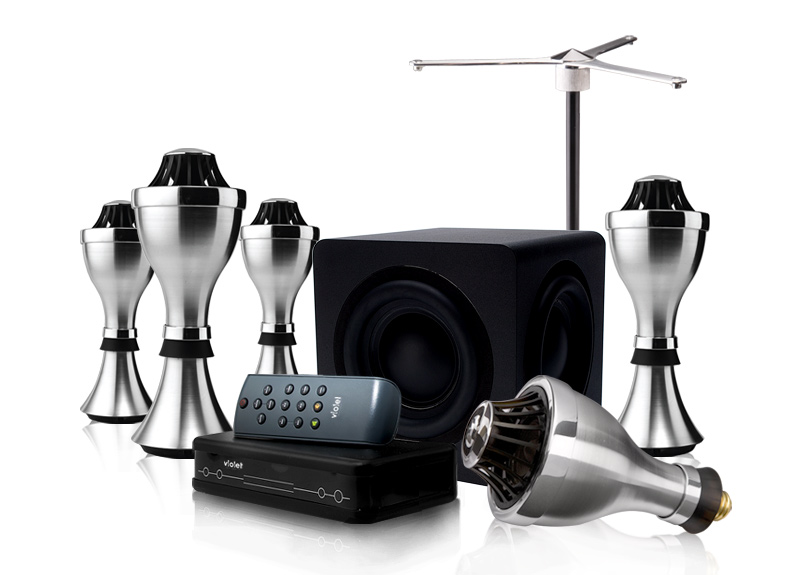 About Violet3D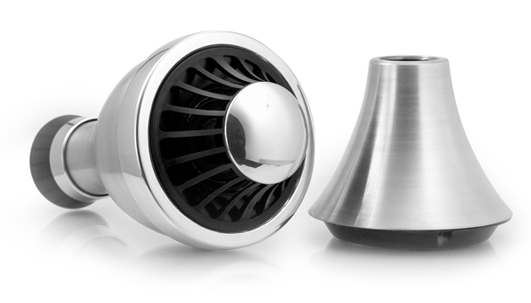 We are a new-age consumer electronics company that builds intelligent audio products to enrich your living room experience. We design, build and sell our systems in the domestic and international markets. In a short span of 2 years we have installed about 1000 systems and are on track to double that number in 2013.
Our award-winning speakers have been creating quite a buzz in the international market so much so that one of the top 2 designer CE brands in Europe is launching their next generation TVs incorporating our electronics. We are a privately held company with investments from one of the largest venture capital firms in the world.