Explore your city without missing a turn or a lane with the awesome Garmin nuvi 2565LM GPS map system. The system comes with a 5 inch sunlight readable widescreen display with 480x272 pixel resolution backed by a rechargeable Lithium-Ion battery. It provides exactturn-by-turn description with accurate street names which are spoken in a familiar Indian accent.
The Garmin nuvi 2565LM in-vehicle GPS unit has multiple options which inform you about your current position by using a high sensitivity receiver to accurately pinpoint your location. The nuRoute technology with myTrends predictive routing allows you to save your regular destinations. With time, it can figure out where you want to go without your instructions! The Garmin nuvi 2465 LM includes multiple travel tools including JPEG picture viewer, world travel clock with time zones, currency converter, measurement converter, calculator and more. The Where Am I emergency locator informs your exact location with accurate latitude and longitude, nearest address, intersection, closest hospital police station and fuel station.
Hands-free Calling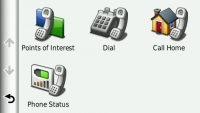 The Garmin nuvi 2565LM GPS integrates Bluetooth wireless technology so you can talk handsfree while you concentrate on the road, using the inbuilt microphone and speaker.