The HP4696 ceramic straightener has a power consumption of 25 W and has a power requirement of 100-240 V. This means that the device has an auto-voltage for worldwide usage. So now you can carry your styler anywhere you go. With your Philips multi-styler create a salon-like hairdo from the comfort of your home and make your hair dazzle on the go.
6 piece heatstyler set for creative styles with care:-
The Salon Multi-stylist HP4696/22 multi-styler from Philips helps you manage your hair to spot a trendy look throughout the day. With 6 attachments this hair styler creates fabulous hairdos like large curls, ringlets/waves, crimps as well as flicks and straight sleek hair. You can gorge on the latest trends while you add a dash of style and volume to your thin, long or medium hair with Philips multi-styler.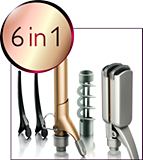 Ceramic coating gives non-stick and even heat:-
The HP4696 hair styler from Philips has ceramic coated plates and it gives out smooth tresses. The plates easily glide through the hair making your hair shiny and lustrous like never before. With the straightener you can also get stylish crimps.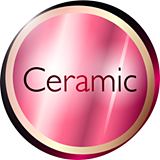 Heat resistant pouch:-
This Heat Resistant pouch is perfect for styling on the go. Forget waiting for your styler to cool down. Simply store using the heat resistant pouch included.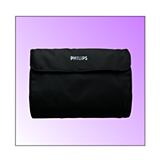 Cool tip for easier and safer use:-
This Philips HP4696/22 comes with a cool tip that allows you to hold on to your styler without giving you any heat burns. The tip has a special insulating material that keeps the device cool so that you can easily have a grip over it.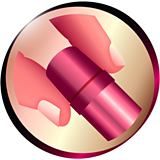 On/off indication light:-
There is also a power button that glows when you switch on your Philips HP4696/22 multi-styler. Once the appliance is ready to use, the colour changes from red to dark red intimating that now you can start your styling sessions. The straightener from Philips has a sliding On/Off button that let you control your styling tool efficiently.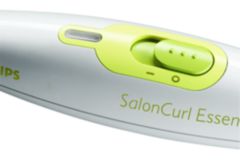 1.8 m power cord:-
The cord length is 1.8 m that ensures you have an easy styling session even from a distance.