First Time in India - Home Installation Facility - Exclusively Through Snapdeal
Snapdeal is proud to announce home installation service for your Car Stereo and Speakers. Installation Service is available aross all the major cities and will be provided at your convenience.

Now enjoy excellent installation service from the comfort of your home and at affordable prices
Rate Card For Installation of Car Audio Stereos and Speakers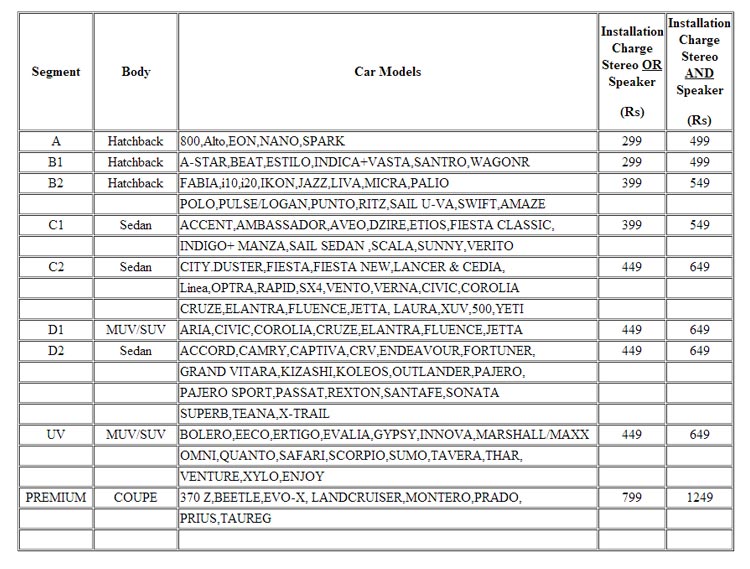 TERMS AND CONDITIONS:
1. Installation Service is available in following cities - Chennai, Bengaluru, Hyderabad, Delhi, Noida, Mysore, Mangalore, Cochin, Hubli
2. Jeeves Consumer Services will give a 90 days warranty on all installation related workmanship.
3. There will be conveyance charge applicable which will be a function of distance and will be quoted on case to case basis.
Product Description
Pioneer India, being the ace producer of car audio systems, brings the DEH-1590UB with its innovative features. Make your ride delightful with its outstanding sound quality, smooth connections and the super convenient features. Play your favourite music on the Pioneer DEH-1590UB and feel the difference of top of the class sound experience. The player has a bright USB port in the front (High current 1A handling capability) where you can connect a plethora of compatible USB devices. Grab your CDs while you drive and with your Pioneer DEH-1590UB, play the songs of your choice with its advanced sound quality system. You can tune into any of your favourite radio stations and listen to them with the player's impressive sound quality while you drive. The player features a 12-character LCD display where you can track the records being played on the system; the LED backlight makes the experience more convenient. The player is compatible of MP3/WMA/WAV Playback format; so tune into the music and turn the ride into a fun experience. The players also has MOSFET 50 W x 4, Supertuner IIID, AUX Input (Front), Card Remote Control, Display Off Mode, Detachable Face Security, Shortwave Tuner and RDS features that add far more utility to the player than other players in the market. The anti-dust design and the rotary volume control give the Pioneer DEH-1590UB a sleek look and add value to the appearance of your car's interiors. 5-Band GEQ equalizer and the 3-mode loudness is another feature that makes the Pioneer DEH-1590UB a smart buy. The player has the qualities that makes it stand apart and makes it the spell for adding to the success story of Pioneer.