You might remember the old Bollywood cinemas, where the hero goes on a long drive with his beloved and plays romantic tracks on the stereo player installed in his car. With Pioneer - FH-X369UB you can also experience the same. It is a media player which supports many of the modern day devices. Most importantly, it is specifically meant for your in-car entertainment.
This stereo player consists of modern day tools like MIXTRAX which gives an enhanced music mixing experience automatically. It further consists of an LCD display that displays up to 12 characters and the Android MTP gives a direct USB control for some of the Android smartphones. This media player also facilitates connecting your Pen drive to the bright USB port and the headphones to the AUX input. This product by Pioneer comes with 2 year Pioneer India warranty.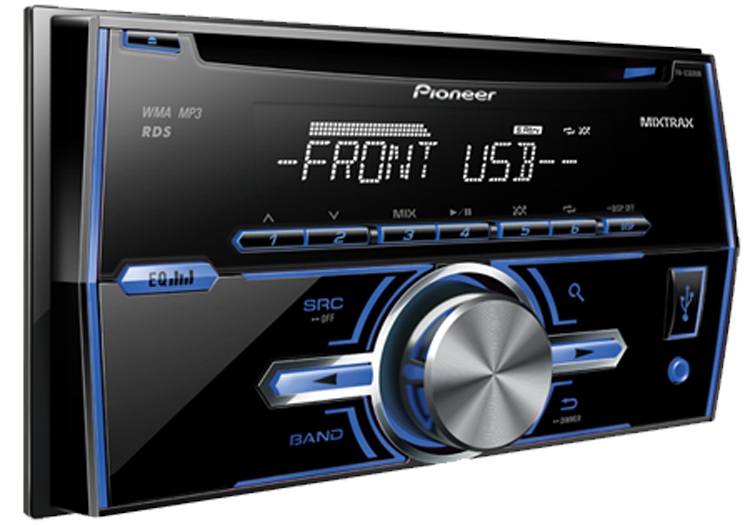 CD Player
Take along the collection of your favourite CD's and just keep moving on the wheels. Pioneer - FH-X369UB is a car media player which consists of a CD player, where you can play your favourite music all along the way, when going on a long drive seating in your car.
Bright USB Port
Another device through which you can play all your favourite music on Pioneer - FH-X369UB – the stereo player for your in-car entertainment is the bright USB port. Connect your Pen drive and play the songs from the ultimate song collection in the Pen drive.
AUX Input
Sometimes you want to enjoy some light music but your friend driving the car is not in a mood to listen to the music. In such cases, the AUX input in Pioneer - FH-X369UB allows you to connect your headphone to the media player and enjoy your loved songs and music.
MIXTRAX
MIXTRAX is one of the most entertaining features in Pioneer - FH-X369UB. It automatically analyses your music collection to give a perfect transition and blending to all your songs. Therefore, it produces best mixes that gives you a totally new experience.
2 Year Pioneer India Warranty
Snapdeal.com is the India's largest online marketplace where offers Pioneer - FH-X369UB at the most attractive price. Moreover, it also offers 2 year Pioneer India warranty on this product. It means that you can be assured that your car's music player is protected against all sorts of manufacturing defects. In any such cases, you are free to visit any of the Pioneer authorised service centres to get the problem resolved