Description of Pro Biker - Gloves Full - Black
HOW TO MEASURE YOUR PALM SIZE: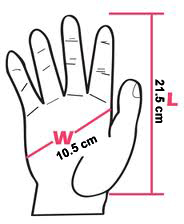 PRO-BIKER Riding Gear brings to you Full Grip Motorcycle Riding Gloves. These gloves are crafted from high grade synthetic fibres with protective plastic covering to ensure you stay safe, no matter what. With these gloves you get added knuckle and finger joint protection which are lined with riding plastic and rubber for added safety. These Full-Grip Motorcycle Riding Gloves have a special grip-enhancer lined on the underside to offer that perfect riding grip. Styled with racing-style Pitch Black these gloves allow that perfect fit for great riding comfort. For those who love the feel of the open road, either for short commutes or extensive long drives down the highway, the Full Grip Motorcycle Riding Gloves is essential for comfort and safety.
Reviews & Ratings for Pro Biker - Gloves Full - Black
Reviews Snapshot