Description of SatGuide Vehicle / Personal Tracker
Get the latest and cutting edge technology to track and defend your loved ones with the Satguide Tracker. The tracker provides multiple tracking mechanisms including a highly capable small form-factor GPS which works even in concealed conditions. The tracker is ideal for locating children, the elderly, sensitive and precious objects like vehicles and laptops, pets as well as personnel movement. The tracking device can be conveniently located through the SatGuide call centre or through the internet. The device also hosts Geo-Fence capabilities by which, if the object moves out of the authorised area, an alert is sent.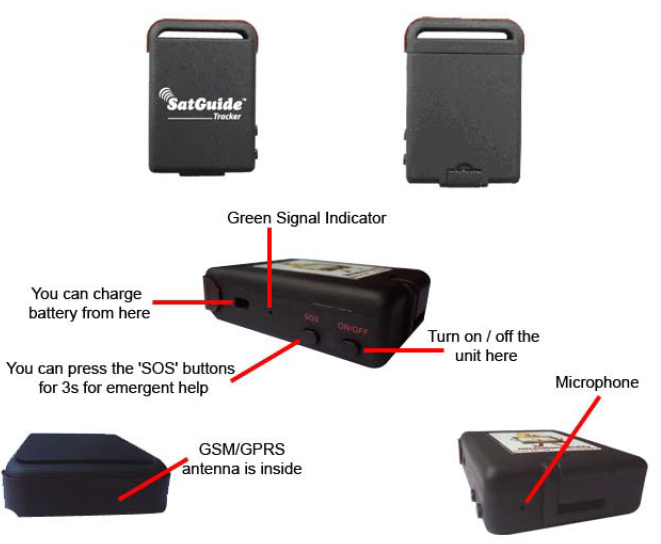 The device is very easy to setup. It can be attached to any metallic surface by virtue of its powerful magnets. It also contains cables to connect to your car battery for charging as well as a permanent power source for in-vehicle usage.
Technical Specifications of SatGuide Vehicle / Personal Tracker
Specifications
Dimensions
64mm x 46mm x 17mm
Weight
50 gm
Network
GSM/GPRS
Band
850/1800/1900Mhz
GPS Chip
SIRF3 chip
GSM/GPRS module
Siemens MC55/Siemens MC56 or Simcom300/Simcom340
GPS sensitivity
-159dBm
GPS accuracy
5m
Time To First Fix
Cold status 45s / Warm status 35s / Hot status 1s
Car charger
12-24V input / 5V output
Wall charger
110-220V input / 5V output
Battery
Chargeable changeable 3.7V 800mAh Li-ion battery
Standby
48hours
Storage Temp.
-40 deg C to +85 deg C
Operation Temp.
-20 deg C to +55 deg C
Humidity
5%--95%
Reviews & Ratings for SatGuide Vehicle / Personal Tracker
Reviews Snapshot