Click blur-free photographs by giving your camera the support of Photron Stedy Pro 560 Tripod. It provides superior stability to your camera thereby allowing you to take clear shots. Having 3-leg sections and scuff proof rubber feet, this tripod delivers amazing support to your camera. You can place it easily on any plain or uneven surface. Its 3-way pan head enables you to make vertical and horizontal movements simultaneously. You can use the pan handle for tilting and panning the camera easily. Equipped with a quick release lever, this Photron Stedy Pro tripod lets you place & remove the camera instantly. It can reach maximum height of 1700 mm whereas its foldable height is 685 mm. It is just 1.35 Kg in weight and has safe load capacity of up to 5 Kg. You can buy this product at lowest possible price from Snapdeal.com with lifetime Company warranty to enjoy a hassle free shopping experience.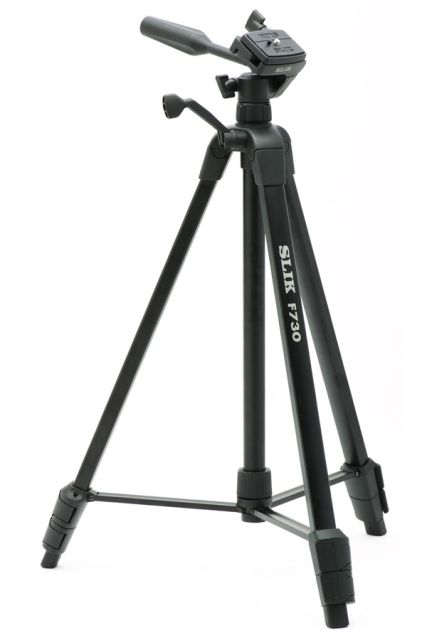 Multi-Purpose Head with a Quick Release Lever
This Photron Stedy Pro tripod comes with a multi-purpose head. It is designed with a self-adjusting platform that has a quick release lever. With the help of this lever, you can take-off the camera instantly from this tripod without worrying about damaging its components. This feature makes Photron Stedy Pro 560 a user-friendly and convenient tripod.
3-Way Pan Head
You can make panning and tilting movements easily by mounting your camera on this Photron tripod. It comes with 3-way multi-purpose pan head that allows you to take shots from a variety of angles. There is a pan handle provided on this tripod that enables you to make horizontal and vertical movements simultaneously while recording a video.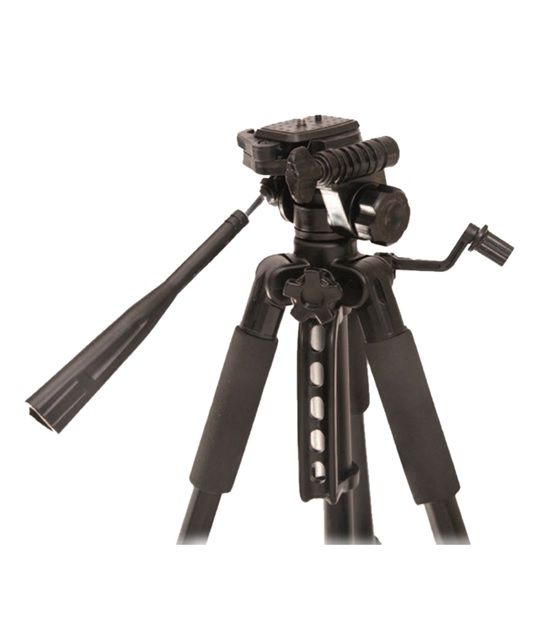 Swivel-Set Scuff Proof Rubber Feet
Photron Stedy Pro 560 Tripod has swivel-set scuff proof rubber feet. No matter what kind of surface it is, this tripod provides stability to your camera in all conditions. The firm rubber feet provide balance to your DSLR camera to suit any kind of shot that you want to capture.
Height & Weight
Photron Stedy Pro 560 Tripod is compact & lightweight. It has non-slip foam that makes it easily portable. The maximum extended height that this tripod can reach is 1700 mm. Its foldable height is 685 mm. The weight of this device is 1.35 Kg and it can take load of up to 5 kg easily.
Quick Flip Lever Leg Lock
The quick flip lever leg lock of this Photron Stedy Pro 560 Tripod allows you to adjust the height for each tripod leg individually. You can set the legs at any angle according to the requirement of your shot. It allows you to focus precisely on your subject for getting stunning image results.
Compatible Cameras
Photron Stedy Pro 560 Tripod is compatible with all DSLR cameras. You can mount any camera of your choice on this device to perform videography or photography. Following is the list of some popular cameras that work well with this tripod:
• Nikon D5200
• Nikon D3200
• Nikon D3100
• Nikon D3300
• Nikon D60
• Nikon D50
• Nikon D7000
• Nikon D7100
• Canon EOS 60D
• Canon EOS 70D
• Canon EOS 1200D
• Canon EOS 1100D
• Canon EOS 550D
• Canon EOS 700D
• Canon EOS 600D
Lifetime Photron India Warranty & Free Transit Insurance
Buy Photron Stedy Pro 560 Tripod from Snapdeal.com and avail lifetime Company warranty on the product. This warranty stands against any manufacturing defect that occurs in the tripod for lifetime from the date of purchase. In case of a problem, you can visit any Photron authorized service centre across India to get the queries addressed. Photron will repair or replace the part that malfunctions free of cost under warranty. To make your shopping experience hassle-free and worthwhile, Snapdeal.com offers you free transit insurance on buying this tripod. If any damage happens to the product till it gets delivered to your doorstep, Snapdeal.com will replace it with a new one.