Description of Vega Helmet - Rally Genesis - Black - Orange Strip
HOW TO MEASURE YOUR HELMET SIZE:
Get a tape measure or a piece of string and measure around your head. Make sure the tape measure is resting just above your eyebrows and ears.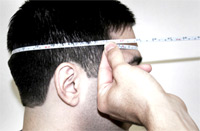 Product Features:
1.This Helmet has got superior fit and comfort using advanced CAD technology 2.True youth sizes Stylish Helmet. 3.This Helmet has Full front to back airflow flushes heat and humidity up and out. 4.This Helmet with Superior goggle fit. 5.Helmet with removable, washable interior. 6.This stylish Helmet has extra large eye port to accommodate goggles. 7.Traction plates on sides for goggle strap retention. 8.High capacity intake forehead vents. 9.Rear mounted dual port exhaust vents in this Helmet. 10.Off Road Helmet has full ventilation channeled throughout the interior for maximum airflow 11.UV Clear finish Helmet.
About Vega:
Vega is one of the leading manufacturers, competing with the world leaders with respect to Design, Process and Product Quality. The company's ideology of Safety coupled with Fashion has become a pioneer in promoting Helmets as DESIGNER HEAD GEAR. Their vast range has been approved by the Bureau of Indian standards (ISI) 4151.
Reviews & Ratings for Vega Helmet - Rally Genesis - Black - Orange Strip